Lok Pokhrel, PhD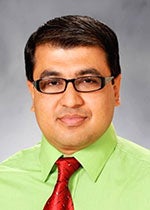 Assistant Professor and Public Health Practice and Foundations Certificate
office: Belk 3402
phone: 252-737-5587
email: pokhrell18@ecu.edu
Dr. Lok Pokhrel is an Assistant Professor in the Department of Public Health (BSOM) and the Department of Health Education and Promotion (HHP) at East Carolina University. Prior to joining ECU, Dr. Pokhrel served as an Assistant Professor in the Division of Environmental Health at Temple University, Philadelphia. He holds a Bachelor of Science (BSc) and a Master of Science (MSc) in Zoology from Tribhuvan University (Nepal), and a Master of Science (MS) in Biological Sciences and Doctor of Philosophy (PhD) in Environmental Health, with a concentration in Nano-toxicology and risk assessment, from East Tennessee State University. Dr. Pokhrel completed his postdoctoral fellowship at the United States Environmental Protection Agency's (USEPA) National Health and Environmental Effects Research Laboratory (NHEERL) in Corvallis, Oregon.
Dr. Pokhrel is trained as a toxicologist and risk assessor. His professional experience spans about 25 years of teaching (kindergarten through graduate level), and 10 years of research and service. He has received several awards, has served as judge in local and national conferences, and serves as an expert reviewer for over two dozen international journals in the field.
Dr. Pokhrel directs Pokhrel's Nanotechnology and Health Lab (PNHL). At PNHL, research is focused on: (1) sustainable development of Nanotechnology-based products to solve imminent public health concerns including Zika virus disease, microbial resistance, water quality issue, and cancer; and (2) understanding environmental health and safety (nano-EHS) of the engineered nanomaterials (ENMs) and nano-based products through toxicity and risk analysis.
Education
BSc, Zoology, Mechi Multiple College, Tribhuvan University (Nepal)
MSc, Zoology, Postgraduate Campus, Tribhuvan University (Nepal)
MS, Biological Sciences, East Tennessee State University (Johnson City, TN)
PhD, Environmental Health, East Tennessee State University (Johnson City, TN)
Areas of Interest
Nanotoxicology (Human Toxicology and Ecotoxicology)
Nano-Technology Development
Nano-Bio Interactions and Surface Chemistry
Risk Assessment of Legacy and Emerging Contaminants
Water Quality Assessment
Microbial Resistance
Environmental Health and Safety
Sustainability and Green Chemistry