Alumni Spotlight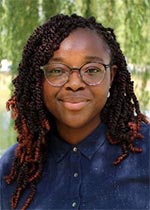 Shavette Campbell
I am currently working for the Center for Disease Control Foundation (CDCF) as a program manager and liaison with the NC DHHS Communicable Disease Branch. We have a newly founded Corrections Team to bring a new initiative to combat the spread of COVID-19 on confinement facilities and improve overall Jail health.
Since I was a child, I have always been passionate about Child Maternal Health. I dreamt of being a neonatologist as a child, but God had other plans for me within the field. In undergrad, I worked with the YWCA Greensboro in the Teen Mom Mentor program and Teen Families Reading Together program. The work made my drive for the field stronger as I took a series of childbirth education courses and pursued the role of being a doula. I became a DONA Certified Doula and began providing labor support to families. From undergrad, I realized that I wanted to be a midwife, but I was unsure when I would be able to pursue that dream. I was invited to the 2019 NC Maternal Health Summitt in Durham while in grad school at ECU., where I met a plethora of passionate midwives and was connected with NC MERA. I attended their 2020 NC Community Birth Summit hosted by the ECU Nursing Department. I learned more about the need for full practice authority for midwives and even pursued learning more about the importance of midwives and doulas in providing increased access, advocacy, and improved birth outcomes in communities of color – even used that as the catalyst for my pro paper.
While working at March of Dimes and feeling the need to grow beyond that limited space, I took a leap of faith and applied to the school of my dreams, U PENN. The University of Penn is one of few universities in the nation to have an accelerated BSN-MSN program. This Ivy league program will allow me to receive my degree in nursing, take my licensure to become an RN, and go straight into my master's program in midwifery. In addition, to a Latin America study abroad experience where I can continue my work in one of my favorite places where I serve as the Vice President of Empowering Brazilian Youth (EBY), an international nonprofit based in Brazil that provides community health, health education, and supplement resources to low-income communities in Aracaju, Sergipe, Brazil. I am happy to say I was accepted into my dream program (Accelerated BSN-MSN, specialty Midwifery)  and projected to start in August 2022.
In addition, I would like to mention that I was also nominated for an award here in Charlotte with the YWCA's Women of Achievement Award, where I was chosen in the women under 35 category as the 2021 Emerging Leader.
I've also continued my journey in my passion and was invited to be a panelist for the YWCA's Black Birth Matters event. All in all, I will continue to strive to achieve my dreams, goals, and ambitions. It is indeed thanks to remarkable phenomenal people in ECU's Department of Public Health (shoutout to Dr. Hall, Dr. Bell, Dr. Rafferty, and many others who make these programs worthwhile! I love the Community Health and Health Behavior Family). They encourage young women like me never to limit themselves but to continue reaching their dreams.
Connect
Sign up to receive our DPH newsletter.
We would also love to hear from you! Complete the form below to update your contact information, share updates on your career, family additions, or community involvement! The information provided may be considered for a feature story in a future DPH newsletter and/or East Carolina University publication.
Vacant
University Program Associate
Email:
Phone:  252-744-5185
Address:
Department of Public Health
Brody School of Medicine
East Carolina University
115 Heart Drive
Mailstop 660
Greenville, NC 27834